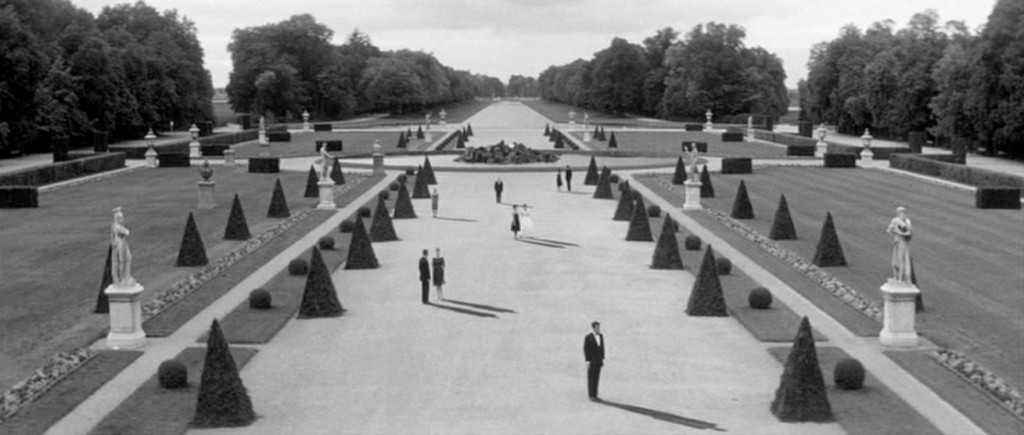 Marienbad
---
Mariánské Lázně or Marienbad is a town in the Czech Republic famous for its mineral springs. However Marienbad became also famous for playing a role in the 1961 film L'année derrière à Marienbad from French film director Alain Resnais. The film became known for its enigmatic narrative structure, in which fiction and truth are hard to distinguish and in which the spatial and temporal relationship of the events is open to question. The story is about a man who, in a huge luxury baroque hotel, approaches a woman and claims that they have met and had an affair the year before at Marienbad. He also claims that they promised to meet again. He tries to persuade her to go and run away with him. The woman insists they never met. The film explores the relationships between the characters through flashbacks and shifts of time and location.
In 2011 the Argentine artist Jorge Macchi (1963) created specially for the 11th Lyon Biennial a work called Marienbad. This site-specific installation was a recreation of the garden from the film L'année derrière à Marienbad. It was installed in the backyard of the T.A.S.E. factory in one of the suburbs of Lyon, Vaulx-en-Velin.
Constructed with great detail, the work staged a 'jardin à la française', a French formal garden. A 'jardin à la française' is based on symmetry and the principle of imposing order over nature. Marienbad consisted only a small part of the factory site. Macchi left the remaining space desolate and industrial, further accentuating the line between veracity and artifice. The installation operated as a representation of a representation and created a strong contrast with the environment. A surreal sight.
Macchi makes works that vary in subject and medium and where aspects as music, light and shadow, blur, openness and boundary are often present. The works possess a sense of estrangement and mysteriousness. Marienbad is a good representation of Macchi's body of work.