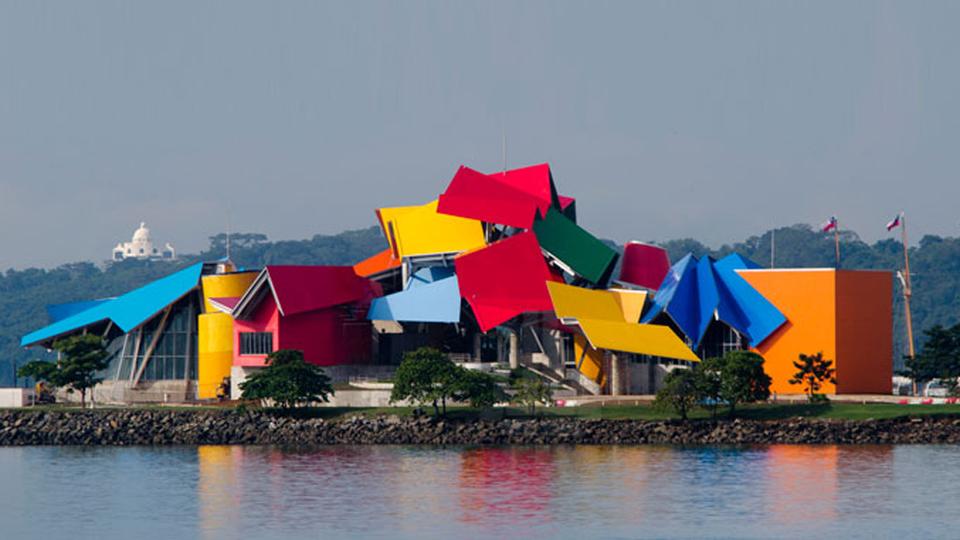 Return of a starchitect, Frank Gehry's recent projects
---
Two new projects of renowned starchitect Frank Gehry (1929) have been revealed end of 2014, the Biomuseo in Panama and the Fondation Louis Vuitton in Paris. Perhaps most known to the great public for his iconic designs for the Guggenheim Museum in Bilbao, the Walt Disney Concert Hall in Los Angeles, the Dancing House in Prague, and his own house in Santa Monica, Gehry continues to develop new projects at his high age. One of his future designs is the Arts Resource Center in Arles, initiated and financed by the Luma Foundation, an increasingly important player in the art world.
The Biomuseo is the architect's first work in Latin America. Situated at the Amador Causeway in Panama the colourful building is a real eye-catcher. The building is 4000-square-metre and has eight galleries. It is meant to represent the Panamanian landmass that rises out of the ocean bringing together the continents of South and North America. The museum revolves around the idea of Panama's biodiversity. Unique in the curriculum of Gehry, the blocky structure is distinguished by the different colours, fitting the cultural spirit of the South American countries. However, is this innovating enough? Probably not.
Almost simultaneously Gehry unveiled in Paris, in one of its oldest parks, the new building for the Fondation Louis Vuitton. The 'cloud of glass' was commissioned by France's wealthiest man and president of the French luxury goods group LVMH Bernard Arnault. The massive glass, metal and wood structure appears to float ethereally over a part of the park. Beside several galleries for permanent and temporary exhibitions the edifice has a restaurant and an auditorium. The later will be the playing field for German band Kraftwerk for eight days in November. After their successful concerts at MoMA in 2012, Tate Modern in 2013, Kunstmuseum Düsseldorf in 2014, the band will perform once again its entire body of work at the Fondation Louis Vuitton. The Foundation and Gehry himself could not wish for a better inauguration of this 'cloud of glass'. Starchitect Gehry knows how to keep us amazed, hopefully for more years to come.